Indianapolis, Ind. (March 8, 2023) — Integra® is pleased to announce that Staub Electronics, A SnapOne Company, is the exclusive national custom installation distribution partner for its integrator-focused products in Canada. The partnership provides broader and more premium audio and video solutions to custom integrators, while delivering the world-class products, industry-leading support, and logistics they have come to expect from Staub Electronics.
Staub Electronics' mission is to bring together the best people, partners, and products to make lives more enjoyable, connected, and secure.
"After a long hiatus, we are excited to finally welcome Integra back to the Canadian market," commented Scott Trotter, President of Staub Electronics. "Integra provides the best integrator-friendly solutions in the market and has been synonymous with high fidelity since 1969. Integra continues to meet and exceed the evolving needs of our industry, and we are confident our Canadian partners will be delighted with their audio/video product solutions."
Integra's brand loyalty and reputation for delivering award-winning products that deliver the highest performance of audio and video reproduction, and advanced technical features available, maximize both the home theater and integration experiences. Integra remains firmly committed to the integrator channel, the requirements to integrate with popular control and monitoring platforms, and tailor-made features such as full web-based setup.
Integra recently added a flagship model to its award-winning DRX series of AVRs. Packed with the most advanced technology, the all-new Integra DRX-8.4 11 channel receiver is a step up in performance in many ways from the already class-leading models. Integration-specific features are a driving force for the brand and its product solutions. Like other Integra DRX series AVR's, the new flagship DRX-8.4 incorporates features such as web-based setup and control, onboard HDMI diagnostics, compatibility with third party monitoring platforms, a Josh AI voice control solution, and a Dirac Live wireless solution to tune the room while the AVR remains in the rack.
"We made the strategic decision to partner exclusively with Staub because they're the best in the integration market. We're excited to bring the revered Integra brand back to the Canadian market and take it by storm alongside Staub," said Joe Petrillo, VP of Sales Americas for Integra.
To learn more about these companies and their products, visit Integra and Staub Electronics.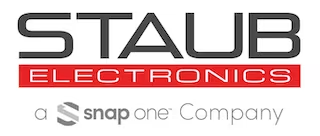 About Integra
Integra has been synonymous with high fidelity since 1969 when the name identified industry-leading flagship amplifiers. Thirty years later in 1999, Integra launched as a standalone brand dedicated to emerging home installation markets with a range of solutions that dealers and installers could stake their reputations on. Because of our close relationship with these professionals, the Integra lineup continues to evolve organically with the needs of a rapidly changing marketplace while exceeding the high expectations of our customers. The Integra 2023 AVR lineup includes the most advanced and sought-after CI features to date.
About Premium Audio Company
Established in 2020, Premium Audio Company is the most innovative, complete and premium audio solutions provider in consumer technology. We connect people to their passion for entertainment. Premium Audio Company is comprised of three subsidiaries and include some of the most legendary and revered brands such as Klipsch, Jamo, Magnat, Heco, Onkyo, Pioneer, Pioneer Elite and Integra. Premium Audio Company, LLC is a wholly owned subsidiary of VOXX International Corporation (NASDAQ: VOXX).
About Staub Electronics
Staub Electronics Ltd. is one of Canada's premiere distributors of consumer electronics, catering to the custom home theatre and mobile electronics markets. Established in 1981, Staub has become a trusted business partner to specialty retailers, custom integrators, and mass merchants through a dedication to customer service, operational excellence and a broad selection of solution-oriented products. Providing a consistently high level of service is their foundation for growth, and the reason they have been "the installers choice" for over 40 years. In addition to service, Staub aims to be Canada's one-stop-shop, representing quality name brand products from over 50 industry-leading manufacturers. Learn More.
Contact
Jill Escol
Premium Audio Co.